Sunday, March 24, 2019
Issue # 5.2.2 "Chalk + Oregon"
[ Home | Blog | Twitter | Facebook | Updates ]
DUKE, TENNESSEE SURVIVE; OREGON JOINS FUN

Buckeye Mike leads by one while Honey Badger goes 16-0 for Round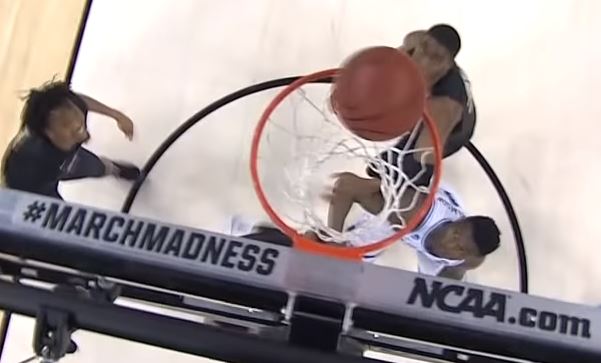 CERRITOS/GOLETA, CA (smt)- #2S-Tennessee blew a 25-point first half lead (44-19) and needed overtime to defeat #10S-Iowa, 83-77. Iowa also had to rally from 4 points down with under a minute left to send the game into overtime at 71 all. #9E-Central Florida nearly made a layup and then tantalizingly watched the follow-on tip by Aubrey Dawkins roll around the rim and then out in falling to #1E-Duke, 77-76. UCF's Tacko Fall had foul trouble playing just 25 minutes but UCF did benefit from a generous call late that gave them a late four-point lead (and subsequently blew an alley-oop that would've put them up 6). After watching and seeing it either probably did hit the rim or was inconclusive (resetting the shot clock where UCF scored), CBS later produced two great replays clearly showing the ball missed the rim (one above that showed it banked and missed the rim and a slo-mo second view that showed the ball never changed direction, thus didn't hit the rim). But while Duke was robbed there, they probably did get the benefit of some rough play and maybe an offensive foul that wasn't called after that. And with the game on the line, Zion missed a game-tying free throw that was put back in by Duke for that final lead with 11.8 seconds left.
#4E-Virginia Tech won by 9 but the other five games were decided by 12 or more points (now 33 of 48 games blowouts, 5 of 48 one possession (6 if you count OT as tie in regulation)). #12S-Oregon beat #13S-UC Irvine to join #1MW-UNC, #3W-Texas Tech, #1S-Virginia, and #3MW-Houston in the Sweet 16. The top 12 seeds (all #1s, #2s, and #3s) are in the Sweet 16. The ACC went 5-0 for the round with the SEC going 4-1 and the Big Ten 3-4. The American, Pac 12, Big 12, and WCC each got one team in.
Even with 12 seed Oregon winning, 11 managed to go 8-0 for the day. Honey Badger (6th-Tied, 92) set a record going a perfect 16-0 for the round while six went 15-1 (previously, 14-2 by 31 entries). Buckeye Mike (96) ends up in the lead by one point over Slamjam51 3 and Carseroni. Maitai went just 1-7 for the day and 5-11 for the round and set a record low of just 41 points after the 2nd round (42 by Quickpick McGraw '08). The 162 entries averaged 12.0 wins for the round, second highest ever (12.1 in '09). 131 still have their Final Four intact and 82 have their Elite 8 intact. Maitai has just 1 Final Four team and 3 Elite 8 teams left. Dagger (152nd-T, 69) and ILikeOwls (99th-T, 79) each lost 5 Sweet 16 teams the past two days.
With the top 12 seeds still alive, a record 139 entries can still win money with a record 87 who can still win the pool. The 14.2% eliminated entries is the lowest since '13 (13.0%). Kai Pomeroy (4th-T, 93) has the best chance to win the pool (14.6%) while Buckeye Mike has the best chance to win money (37.6%). ZQUEEN is tied for 13th (90) but can't win the pool while Umuuwu is tied for 89th (80) and can still win the pool. Fire Bill Self is tied for 51st (85) but can't win money while Karma Chameleon2 is 157th (67) but can still finish 4th. Umuuwu has a 1 in 32,768 (0.003%) chance to win the pool while Shake N' Bake (89th-T) and TheComeBacker (99th-T, 79) have a 2 in 32,768 (0.006%) chance to finish in the top 6.
We are now on Twitter (@HWCI_Pools). Please follow! I will post using #hwciNCAA mini-updates during the day so you can follow without being on Twitter (and if you are, please use #hwciNCAA). Please join our Facebook HWCI NCAA Pool Group.
Tids & Bits - Duke averaged 1.8 points per possession when Fall was on the bench and just 0.9 while he was in the game... UCI's 17-game win streak was snapped... 161 picked Duke, 157 UNC, 156 Virginia, 136 Tenn, 124 Houston, 119 Texas Tech (37 had Buffalo), 113 Virginia Tech, 40 Oregon (15 had UCI)... 2 lost Maryland as their champ while one each lost defending champ #6S-Villanova, Kansas, and #10W-Florida (you know who you are!)... top 12 seeded teams still alive... Virginia Tech is in Sweet 16 for first time in 52 years... after being up by 5 with 15:21 left, #12E-Liberty missed 11 of 12 shots to fall behind by 8... UCI had a 16-0 run to lead 37-35 but went cold after that... first time all 16 betting favorites won Round of 32 games (yes, Auburn was -2 over Kansas)...
--------
All four Tamashiro entries can still win the pool, although faintly so...
Scott
---
© 1995-2019 HWCI Productions
HWCI circa 1990