2022 NCAA FINAL FOUR @ New Orleans, Louisiana



6th Final Four ('82, '87, '93, '03 (Louisiana Superdome); '12 (Mercedes-Benz Superdome))
-
Hosted by Tulane U. (American Athletic Conf) (2nd Final Four) & U. of New Orleans (Southland Conf) (2nd Final Four)
- The Floor
First Semifinal
Second Semifinal
#2-South

San Antonio, Texas (6th Regional)

Hosted by U. of Texas at San Antonio (Conf USA) (6th Regional)

#1-Midwest

Chicago, Illinois (4th Regional)

Hosted by Northwestern U. (Big Ten) (1st Regional)

#2-West

San Francisco, California (3rd Regional)

Hosted by Pac-12 Conf (2nd Regional)

#8-East

Philadelphia, Pennsylvania (5th Regional)

Hosted by U. of Pennsylvania (Ivy League) (6th Regional)


Villanova University Wildcats (30-7)

University of Kansas Jayhawks (32-6)
Duke University Blue Devils (32-6)

University of North Carolina at Chapel Hill Tar Heels (28-9)

Big East Conference (2nd Place) - Tourney Champs
Villanova, Pennsylvania
7th Final Four ('39, '71, '85, '09, '16, '18)
def #15 Delaware 80-60
#7 Ohio State 71-61
#11 Michigan 63-55
#5 Houston 50-44
Big 12 Conference - Regular Season and Tourney Champs
Lawrence, Kansas
16th Final Four ('40, '52, '53, '57, '71, '74, 86, '88, '91, '93, '02, '03, '08, '12, '18)
def #16a Texas Southern 83-56
#9 Creighton 79-72
#4 Providence 66-61
#10 Miami of Florida 76-50
Atlantic Coast Conference - Regular Season Champs
Durham, North Carolina


17th

Final Four ('63, '64, '66, '78, '86, '88, '89, '90, '91, '92, '94, '99, '01, '04, '10, '15)
def #15 Cal State Fullerton 78-61
#7 Michigan State 85-76
#3 Texas Tech 78-73
#4 Arkansas 78-69

Atlantic Coast Conference (2nd Place)
Chapel Hill, North Carolina
21st Final Four ('46, '57, '67, '68, '69, '72, '77, '81, '82, '91, '93, '95, '97, '98, '00, '05, '08, '09, '16, '17)
def #9 Marquette 95-63
#1 Baylor 93-86 (OT)
#4 UCLA 73-66
#15 Saint Peter's 69-49
Friday, April 1, 2022 **NO APRIL FOOL'S JOKE HERE**
Issue # 12.4.4 "Revenge of the Blue Bloods"
[ Home | Blog | Twitter | Facebook | Discord ]
THE ELITE TAKE OVER THE FINAL FOUR

At least $1,366 will be donated to IRC; over $3,097 donated over 12 years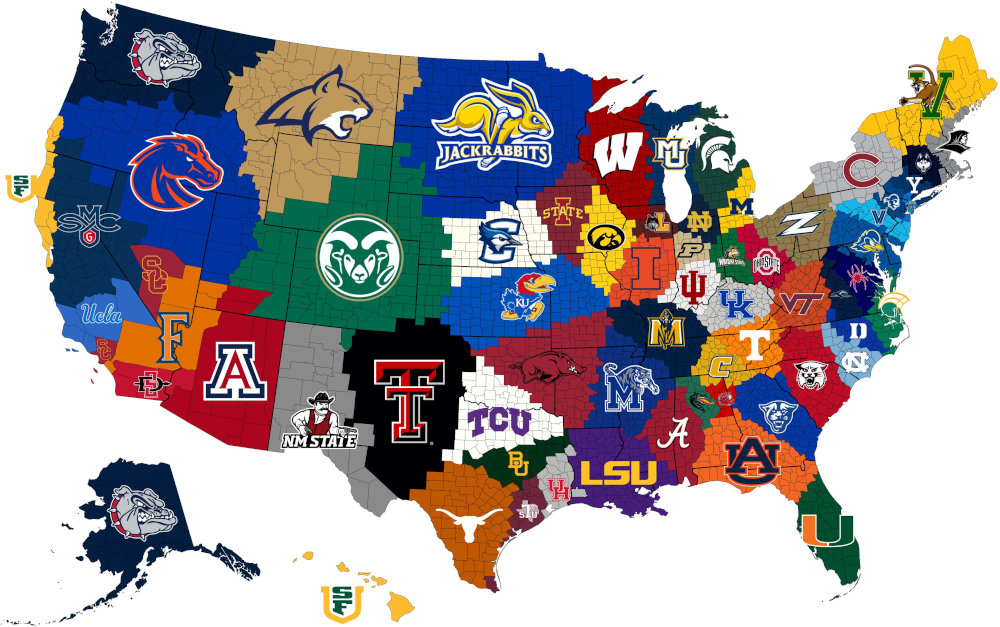 WATCHING USMNT GET DRAWN INTO ENGLAND'S GROUP, CA (smt) - While it was nice to see some fresh blood in the Final Four the past two years (Baylor & Houston's 1st trip since before '85, the Zags 2nd, blue-blood UCLA's first since '08 last year and Texas Tech & Auburn's 1st ever, Virginia's 3rd (and first since '84), Michigan St's first since '15 in '19), three blue bloods are back with three-time champion Villanova tagging along. Combined, the four teams have 61 Final Fours (the previous 2 tourneys had only a combined 41 with 19 of them belonging to UCLA). While not a blue blood in the traditional sense, Villanova has won 2 of the past 5 titles and are in their 3rd FF in six tourneys. The top-heavy Final Four makes you forget about St. Peter's, Providence, Miami, Iowa St and even Gonzaga and Arizona. Remember them? Remember the West Coast power? Nope, it's Kansas and three teams who you can barely see on the map on the East Coast.
The hottest ticket will be the first-ever NCAA tournament meeting between two legendary rivals as #2W-Duke takes on #8E-North Carolina. UNC ruined Coach K's last home game and will try to replicate that and make this his last ever Duke game. The Blue Devils has closed out its past three games strong (hitting their late free throws) after dismantling Cal State Fullerton in the opener. The Tar Heels routed Marquette and fan-favorite #15-St. Peter's but blew a mid-second half 25 point lead to #1-Baylor before winning in overtime and hustled their way with two key offensive rebounds in beating #4-UCLA.
#1MW-Kansas is the lone #1 seed left and nearly didn't make it out of the Sweet 16 like Gonzaga and Arizona did in outlasting #4-Providence and had to score the last six points in beating #9-Creighton by 7 in the 2nd Round, almost going out like Baylor did. #2S-Villanova won their first game easily but had to outscore #7-Ohio St 11-3 in the last 5 1/2 minutes to win by ten and 9-5 in the last 3 minutes to win by eight over #11-Michigan. In a pro-Houston crowd in San Antonio where neither team shot better than 30%, the Wildcats outscored the Cougars 6-2 in the last 5 (!) minutes to win by six (that's a combined rate of just 64 pts for 40 minutes). Nova's point total has gone downhill from 80 to 71 to 63 to 50.
A record 18 can still win money but only 4 can win the pool title. A UNC title would give George M (Tarheel Blue Balls) his first win in just his second year in the pool and even a UNC loss in the final would give him at least a tie for 1st. A Duke-Kansas final would give Tim W (Frost Toasted) the title and would be his first money spot in 12 pools. If Duke beats Villanova in the final, current leader Stephen I (Mia Culpa) would win the title, his first money spot in 6 pools. If Nova wins the title, Sophie B (Barbs) would get at least a tie for 1st in her first pool ever. Both Tim W and Stephen I would win on their 3rd entry, where no 3rd entry has ever finished in the top 2. Bonus2 (Total Points in Final) will be the Bonus. We won't have info on who can win that until after the Semifinals.
For our 12th HWCI NCAA First Four for Charity free contest, 22 people participated. Six went 4-0 but Andy F won with the lowest point differential (15). Two went 0-4 with Netu G last with 49 PD vs Eric M's 34. Scott D exactly picked Indiana by 8 and Michael W exactly picked Bryant by 11 while Greg J was off the most, picking Texas A&M CC by 9 but they lost by 11 (20 PD).
First or last, the great news is that the International Rescue Committee, who are providing urgent support to people forced from their homes by the Russian invasion of Ukraine as well as other crises around the world, will be getting a donation of at least $1,366.12 (by far, our largest ever - previous high was $460 to Boys & Girls Clubs of America in '19), $44 directly from me with Andy F (Agnes Schweitzhoffer), Tom J (Kds911), Jeff2 H (Pac Attack, Go Bruins!), Vi P (Stay at Homie), Linh T (Lady in Blue), Elizabeth W (LizReturns), Annie F (Lady Chocoholic), Greg P (Bad New Bruins), Spencer T (Spoonceer), Ava T (Ava the Spoon), and John S (Mr Wizard) contributing a whopping total of $639.06 to also help out. The 11 additional people making donations is the most ever and thank you very much! The current total of $683.06 will be matched by my company (Raytheon Technologies). I won't be submitting the donation until next month, just in case others want to chip in. We have averaged over $258 per year in donations and have contributed over $3,097 to help a variety of causes and organizations. Unfortunately, the humanitarian crisis last month was the third timely disaster since the 2011 Japan Earthquake, which sparked my idea for this contest in the first place, so these past three years have been donations to COVID-19 funds and Ukraine refugee crisis, but in the past we have chosen educational, cancer research, humanitarian, local help, Christian, and fundraisers.
Tids & Bits - the top 3 picks (Zags, Zona, Kentucky) to win it all were eliminated but 12 did pick Kansas, 12 Duke, 7 Nova, and one UNC (SlumDawg3)... just 0.088% of all NCAA Bracket Challenge entries had all 4 teams, which makes our George M (Tarheel Blue Balls) a wizard (he's just the 23rd entry ever to get all 4 Final Four teams in 27 pools) - our percentage is 0.059% (1/169)!... Kansas is favored by 4 and Duke by 4.5 points... odds: Duke 1.55:1, Kansas 1.85:1, Villanova 4.5:1, UNC 5:1 (UNC was 100:1 heading into the tourney)... Sporting News odds to win title: Kansas 30.9%, Duke 30.7%, Villanova 25.3%, UNC 13.1%... Kansas had dominant halves - outscored Texas Southern 47-19 in the first half and outscored Miami 47-15 in the second half... Duke has scored at least 78 points in all four games... Rutgers losing in overtime in the First Four was the start of all 9 Big Ten teams being eliminated before the Final Four for the 2nd straight year (Big Ten 0-18 getting teams into the Final Four)... UNC and Duke have met 255 (or 257) times, but never in the tournament... Coach K has coached 1,569 games... the ACC had just one team in the final Top 25 AP poll (Duke #9) but have won 13 games (12 in the proper 64); UNC "received votes" which would put them 32nd... Villanova is shooting 83% on free throws for the season, which would be the best ever (Harvard 82.2% in '84)... the four teams have combined for 61 Final Fours and 17 titles... UNC beat Duke by 13 in Coach K's last home game on March 5... Coach K has 1,202 wins while first-year UNC coach Hubert Davis has just 28... Coach K's 13th Final Four breaks the tie with legendary John Wooden (UCLA)... first time all 4 teams have at least 3 titles... this the 7th all-ACC semifinal (Big Ten has the most with 8)... the Blues: Villanova Signature Blue #0031ad (Pantone 281), KU Blue #006bfa (Pantone 293), Duke Blue #0048e0 (Pantone 287), Carolina Blue #7bafd4 (Pantone 542 C) ... for the first time in 5 tourneys, the MEAC did not play in the First Four as Norfolk St snagged a regular #16E seed after winning their First Four game last year snapping the MEAC's three-game First Four losing streak... the annoyance of not having a tourney in '20 is that you have to say the last X tourneys instead of the last X years or for the first time in X years (X-1 tourneys)... if you picked chalk, you would've won nothing, again - in fact, picking chalk every year would only yield a 2nd place in '97 (27 tourneys x $10 fee = $270 in, $60 won)... last year, $248 (includes $124 match from my company) was donated to Center for Disaster Philanthropy - COVID-19 Fund...
--------
Being a fake passenger for Delta's Sky Way Operational Readiness Trial was pretty cool - and got hat, bag, and $15 for Proud Bird restaurant for it...
Scott
---
© 1995-2022 HWCI Productions
HWCI circa 1990