Saturday, March 19, 2022
Issue # 4.2.1 "UNC Unchokes Itself"
[
|
|
|
| Updates ]
AN ELBOW NEARLY DOOMED UNC

Tarheel Blue Balls goes 6-2 to lead by 2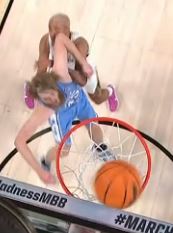 DISAPPOINTED SELLOUT CROWD FOR LAvORL AT DIGNITY HEALTH SPORTS PARK, CA (smt) - Where to even start? #8E-UNC was cruising with a 25-point lead (67-42) when with 10:08 left, UNC's Brady Manek's (26 pts) elbow landed on a #1E-Baylor player's face and the refs decided to call a flagrant-2 and eject him from the match giving Baylor, at the time, a couple of meaningless free throws. The Bears made 1 of 2 but that turned into a quick 11-0 run and eventually outscored UNC 38-13 in ten minutes to tie the game at 80 with 15.8 seconds left (a head scratcher long 3-pt attempt by UNC on the last play exemplified all that went wrong for UNC). Ten turnovers, three late missed free throws, taking just ten shots (the did make 4 of them), another technical foul, and seemingly always dribbling into a corner against Baylor's press was ten minutes UNC wanted to forget. Luckily, in overtime, they were like goldfish and outscored the Bears 13-6 to win 93-86 to advance to their 30th Sweet 16. Baylor exploited inconsistent refs with their aggressive press which caused UNC fits (plus poor decision making). In overtime, UNC got the benefit of calls as Baylor just ran out of gas while having 3 players foul out.
#1MW-Kansas scored the last 6 points in holding off #9MW-Creighton by 7. #11S-Michigan, who some thought should have been in the First Four went on a 14-4 run late to overcome a 6-point deficit to #3S-Tennessee to win by 8. #4MW-Providence, who most thought was over-seeded, walloped #12MW-Richmond by 28 to make its first Sweet 16 since '97. #4E-UCLA broke open the game after #5E-St. Mary's got within one five minutes into the second half to make its 5th Sweet 16 in 9 years. A collision course with Gonzaga looms but first two of the biggest programs will face off as 11-time champion UCLA will face 6-time champion UNC.
Free throws played key roles in three games. #15E-St. Peter's never trailed and hit 12 straight free throws at one stretch in the end to win by 10 over #7E-Murray St and becoming the 3rd #15 seed to make the Sweet 16 (and second consecutive year after Oral Roberts did it last year). #4W-Arkansas trailed by one to #12W-New Mexico St before going on a 9-0 run with their last 12 points coming on free throws (overall 22/25) to win by five. #1W-Gonzaga was 4/12 and 7/17 on free throws keeping #9W-Memphis in the game (the Tigers actually led by 10 at the half) but the Zags then hit their last 6 free throws to barely win by 4 and reach their 7th straight Sweet 16.
Tarheel Blue Balls (1st, 68 pts) won the first five games and was the only one to go 6-2 to take the lead by 2 points over Shepwhip and three points over Carseroni. Cover You Eyes (150th-Tied, 47) was the only one to go 1-7. Bulba is last with 38 pts and can't get more than 86 points. Source went 2-6 to go from a tie for 2nd to a tie for 31st (58).
40 had Baylor in their Final Four and six had them as their champion. 23 had Tennessee in their Final Four and five had them winning it all.
We are now on Twitter (@HWCI_Pools) and Discord. Please follow! I will post using #hwcincaa mini-updates during the day so you can follow without being on Twitter (and if you are, please use #hwcincaa). Please join our Facebook HWCI NCAA Pool Group or post comments on our blog. Here you can join the group and meet your competitors, make new friends, set up NCAA watching gatherings, and post stuff to the wall (pictures, witty comments, etc.).
Tids & Bits - No one picked St. Peter's, 13 picked Michigan, 15 UNC, 26 Providence, 87 Arkansas, 133 UCLA, 167 Kansas, 167 Gonzaga... entries got an average of 3.61 games correct today (even though 5 top 4 seeds won)... Baylor's loss was the Big 12's first (and state of Texas's first if you ignore the two #16 seeds)... the Big 12 is 7-1, the ACC 7-1 (6-1 in proper 64), Big Ten 8-3 (7-2 in proper 64), SEC 4-4, Big East 4-4, American 2-1, WCC 3-2, Pac 12 3-1, Atlantic 10 1-2, and MWC 0-4 (0-3 in proper 64)... of the 40 games, just four were one possession losses (not including regulation tie of an overtime game) (Creighton by 3, Miami by 2, and Illinois and Michigan St each won by 1)... UNC barely made it 45-0 in the tournament when leading by double-digits at the half... Kansas has matched Kentucky with their 2,353rd win and 16th season with 30+ wins... Murray St's 21- game win streak was snapped... NM St shot just 34%, 23% from three, and 60% from the free throw line after shooting 46%/65%/100% on Thursday... Florida Gulf Coast ('15) was the other #15 seed to make the Sweet 16...
--------
Really don't like how March Madness Live app auto switches to Fast Break stream after a game - I like to hear the interviews right after...
Scott
---
© 1995-2022 HWCI Productions
HWCI circa 1990