Saturday, March 20, 2021
Issue # 3.1.2 "Pac 12 Perfect"
[ Home | Blog | Twitter | Facebook | Discord ]
DIFFERENT OHIO PREVAILS, FIRST UNCONTESTED

License to ILL is 1 of 3 to go 14-2 to lead pool with 52 points
TORRANCE TAX TIME, CA (smt)- With huge pressure in the final seconds, #13W-Ohio not only hit the front end of the one-and-one, but both free throws twice as those four points were the margin in a 62-58 upset over defending champion #4W-Virginia. The Cavs, who only flew into Indianapolis yesterday (just in time to take the two COVID-19 tests) led by 7 but were then outscored 14-2. #14E-Abilene Christian, who was only was eligible for the tourney in '18 and made it in '19, forced 23 #3E-Texas turnovers and hit two free throws with two seconds left to prevail 53-52. Texas was the first Big 12 team to lose (Big 12 went 6-1) had an early second-half 9 point lead but then were outscored 18-4. While the Big 12 had a blemish, the Pac 12 ended the 1st Round a perfect 5-0 (6-0 if you include the First Four). #11E-UCLA led wire-to-wire to upset #6E-BYU (I guess the NCAA won't have to switch Sat/Sun games now), and of course, their 73 points had to be one higher than their cross-town rival #6W-USC, who won easily as well.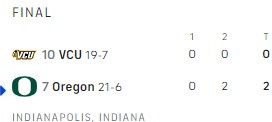 The big news though was that #10W-VCU had to withdraw from the tourney due to multiple positive tests and gave #7W-Oregon a free pass to the 2nd Round. It gave 128 entries who picked the Ducks a stress-free evening. Along with the disappointment, VCU does not know how early they can send the players back home to their families yet.
#5W-Creigton survived #12W-UC Santa Barbara who had a great opportunity with their big man inside but tried to draw a foul instead of going strong to the basket in losing by one. The Big Ten came back strong after losing three teams to overtime (one First Four, two yesterday) with #10E-Maryland easily handling #7E-UConn and #1E-Michigan and #2W-Iowa winning easily as well (Big Ten is 6-2 in 1st Round).
#4E-Florida St, #3W-Kansas, and #2E-Alabama pulled away late. #5E-Colorado, #8E-LSU, and #1W-Gonzaga (now 27-0) won easily. #9W-Missouri (former Big 12, now SEC) had a one-point lead but then were outscored 11-2 but still had a chance at the end but questionable tactics allowed #8W-Oklahoma to foul and prevent a game-tying three-point attempt.
The first nine games were chalk (and along with the earlier VCU news, 10 games were chalk) but the evening provided four upsets by double-digit seeds. Overall, ten underdogs won with 9 of those double-digits seeds. This was the first time four #13 or worse seeds advanced to the second round (two #13, one #14, one #15). None of the three trendy #12 seeds won (all picked by at least 55 entries) but #12MW-Oregon St did (picked by 27). Nine actually got ACU, 36 picked Ohio, 51 picked UCLA (or Play-In winner), and 60 picked Maryland. At least one entry picked the correct team in all 32 games.
In the pool, License to ILL leads with 52 points (26-6) and was one of three to go 14-2 today. The other two, Mauihammy &Jay Bilas and BamaG, moved to a tie for second with 50 points. Go Beach! went 6-10 to finish 12-20 for the round, setting a record low with 24 points. Despite this, she has 7 of 8 Elite teams still alive. Fourteen entries have just half their Final Four alive while 95 still have theirs intact. Six have 14 Sweet 16 teams alive while 12 have just nine. While 19 have all their Elite 8 teams, Cloak (24th-Tied, 44) only has 4.
We are now on Twitter (@HWCI_Pools). Please follow! I will post using #hwcincaa mini-updates during the day so you can follow without being on Twitter (and if you are, please use #hwcincaa). Please join our Facebook HWCI NCAA Pool Group or post comments on our blog or Discord server. Here you can join the group and meet your competitors, make new friends, set up NCAA watching gatherings, and post stuff to the wall (pictures, witty comments, etc.).
Tids & Bits - Tarheel (83rd-T, 40), Bucky 2 (24th-T), and Bucky 3 (83rd-T) lost UNC as their champ yesterday; YogaAddict (112th-T, 36) lost Virginia today; 23 lost Texas in their Final Four... Ormonde3 (12th-T, 46) can get the highest total points (168) if all goes right while Flamingo22 (138th-T, 36) can only get a max of 103... Dagger is tied for 12th but can only get a max of 128 pts, the same amount last place Go Beach! can... UCLA makes it 9 of 10 years a First Four team has won a First Round game (only missing the last time in '19)... LSU-#12W-St Bonny's featured a 4-4 game after more than 8 1/2 minutes... Colorado shot 60.7% from the field and 64.1% for three-point range (16/25)... ACU had 27 more shots (with a poor 20/67 29.9% shooting) than Texas thanks to 18 offensive rebounds and a +12 turnover margin... Florida St did not make a three (0/9) while nearly half of #13E-UNCG's shots were threes (27 of 60 attempts)... #14W-Eastern Washington was actually tied with Kansas at 66 but were quickly outscored 14-2... Creighton had a 10-point lead (47-37) before #12W-UC Santa Barbara scored 21 of the next 25 points... Maryland entered with 13 losses but lives to fight another game... would I have picked USC and UCLA if they weren't my home teams, probably not... well, I did get burned by locals UCSB and San Diego St...
--------
All close games go against me? At least my daughter (Banana Corn (24th-T)) is excited she is beating the family...
Scott
---
© 1995-2021 HWCI Productions
HWCI circa 1990