Friday, March 19, 2021
Issue # 2.1.1 "Oral Robs Buckeyes"
[ Home | Blog | Twitter | Facebook | Updates | Discord ]
SIX UPSETS, THREE OVERTIMES, MADNESS IS BACK!

After a long 2-years, pool back with 2nd most entries ever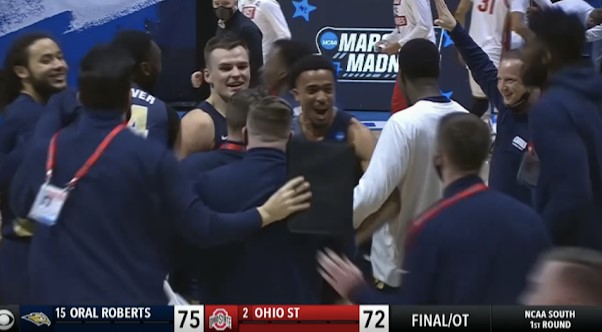 WORK FROM HOME, CA (smt)- #2S-Ohio St was playing one of the best free-throw shooting teams in #15S-Oral Roberts and that was the difference. Up by two with a one-and-one, the Buckeyes missed (9/18 for the game) allowing Oral Roberts to tie with a couple of free throws (at the time 9/10) to send the game to overtime. The Golden Eagles jumped to a six-point and lead and held on as Ohio St had a great open look to tie but missed. Oral Roberts is just the 9th #15 seed to beat a #2, the first since '16 when Middle Tenn beat Michigan St. It was not the only upset as #13S-North Texas beat (essentially) host #4S-Purdue in overtime, #12MW-Oregon St, #9S-Wisconsin, and #11MW-Syracuse breezed to victories over #5MW-Tenn, #8-UNC (giving coach Roy Williams his first 1st Round loss ever (29-1); UNC's last 1st Round loss was in '99 (17 in a row)), and #6MW-San Diego St, respectively. #10MW-Rutgers held on in their first appearance since '91 (and first win since '83).
#7S-Florida blew a late six-point lead, missed 2 free throws to seal the game and had to instead battle and win in overtime. #3S-Arkansas (though #14S-Colgate did jump to a 33-19 lead but allowed the next 19 points), #1MW-Illinois, #1S-Baylor, #2MW-Houston, and #3MW-West Virginia won easily. #6S-Texas Tech, #8MW-Loyola Chicago (welcome back 101-year old Sister Jean!), and #5S-Villanova posted double-digit wins. #4MW-Oklahoma St held off #13MW-Liberty.
Including yesterday's UCLA overtime win, March Madness has already had four OT thrillers (though no buzzer beaters) and six upsets, five by double-digit seeds. More importantly, no games forfeited (or uncontested) and fans at games (so no piped in nonsense like NBA and NFL games). The Big Ten is 3-4 (including the First Four) and all three losses were in overtime. The Big 12 is 4-0 with three more teams playing tomorrow.
With an extra day, the entries coming in still followed the same trend as past years, especially for the last 24 hours. We got 165 entries with just hit the trigger point of adding a 7th place prize (the only other time we had a 7th place was in '17 when we had a record 178 entries). Prizes will be announced later. A lot of people were really excited to join the pool as we didn't quite know how people would react in a middle of a pandemic. So excited that a record 22 entered three times (previous high was 13 each of the past three pools) and a dozen actually paid early which is rare but appreciated. The 101 people is our lowest since '12 and '13 when just 99 played each year. We got 21 new entries and 8 new people (most related like sons/daughters/wives/husbands). 12 entries have been with us at least 20 years and 64 at least 10 years.
In the pool, TJJ Brackets is on top getting 14 of 16 games correct (if you picked by seeds, you'd only get 10) and has 28 points. Dagger and Cloak are tied for 2nd (26). Three are tied for last going 6-10 which ties a record for lowest first day wins (twice in '15, once in '08). Three lost Ohio St as their champ and 32 lost them in their Final Four. TWA (127th-Tied, 16) was the only entry to pick Oral Roberts and just 7 picked North Texas. Flamingo22 (127th-T) lost her champ Purdue. In the most evenly split game, 82 got Florida (83 picked Virginia Tech).
We are now on Twitter (@HWCI_Pools). Please follow! I will post using #hwcincaa mini-updates during the day so you can follow without being on Twitter (and if you are, please use #hwcincaa). Please join our Facebook HWCI NCAA Pool Group or post comments on our blog or Discord server. Here you can join the group and meet your competitors, make new friends, set up NCAA watching gatherings, and post stuff to the wall (pictures, witty comments, etc.).
Tids & Bits - Weird starting the pool on a Friday instead of a Thursday... Oral Roberts had four starters with 42-45 minutes and used just two bench players (two pts) so I guess you can play with just 5 health... State of Texas is 5-0 thus far (Texas Southern, Texas Tech, North Texas, Baylor, and Houston) but will not be perfect as Texas teams #3E-Texas and #14E-Abilene Christian play each other and #16E-Texas Southern returns to play #1E-Michigan tomorrow... #6MW-SDSU, #14S-Colgate, and #13MW-Liberty all had double-digit win streaks snapped... the last two times Syracuse was a double-digit seed, they went to the Final Four (#10MW in '16) and Sweet Sixteen (#11MW in '18, winning 3 games (First Four, 1st, 2nd)), all in the Midwest Region like this year... the MEAC had lost three straight First Four games (losses by NC A&T) but #16aW-Norfolk St prevailed after blowing a 19-point second half lead... WVU coach Bob Huggins won his 900th game... #11bW-Drake got its 26th win and its first win in the tourney in 50 years ('71); Oral Roberts won its first tourney game since '74; Rutgers' first win since '83; Oregon St's first win since '82... the only two Illinois teams will play in 2nd Round (Illinois & Loyola Chicago)... #11bE-UCLA overtime win prevented back-to-back First Four losses... Thursday's First Four was first tournament games in 710 days... #16bW-Appalachian St missed their first 19 3-point attempts (0/18 1st half (were 8/8 in free throws in 1st half))... 59 were 4-0 before Ohio St's loss... the entries averaged 9.55 wins... In the 11th HWCI First Four for Charity contest (17 entries), Mike M anticipated close games for each (by 1 point) to win with a 3-1 record and low 14 point differential; Four were 3-1 and four were 0-4 (Eric F last with 50 pt diff); This was the third time no one went 4-0 (10 contests, last year was just pick the champ); Mike W actually picked two game exactly (Norfolk St by 1 and UCLA by 6) to finish 2nd (20 pt diff); 6 picked Texas Southern, 5 picked Drake, 7 picked Norfolk St, and 6 picked UCLA; All underdogs (by our picks) won... I like the truTV (lower quality but you can take screenshots, unlike the March Madness app) and their break message – "truTV will return… unless the world ends or something" is hilarious!... arena capacities: Assembly Hall (Bloomington) 500 (3% capacity), Hinkle 1,250 (18%), Mackey (West Lafayette) 1,350 (9%), Farmers 1,200 (18%), Bankers 2,500-3,800 (13-19%), Lucas Oil 6,900 & 8,900 (22%)...
--------
Bad free throw shooting is my pet peeve...
Scott
---
© 1995-2021 HWCI Productions
HWCI circa 1990