Saturday, March 30, 2019
Issue # 9.4.1 "Buzzer Beater"
[ Home | Blog | Twitter | Facebook | Updates ]
MISTAKE COSTS ZAGS; HEAVYWEIGHT FIGHT WON BY VIRGINIA

Carseroni is one of 11 to get both games and jumps to 4 point lead; Just 7 can win pool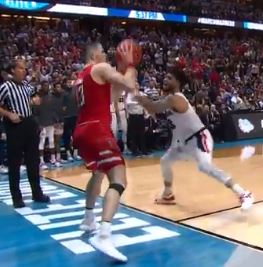 HOME/LABCORP, LOS ALAMITOS, CA (smt)- After falling behind 69-62 with 52 seconds left, #1W-Gonzaga got within two at 71-69 before Josh Perkins made the accidental mistake heard around the world with 11 seconds left when his hand knocked the inbound player's hand meaning it was a 2-shot technical foul plus #3W-Texas Tech got to keep the ball. The resulting four free throws gave the Red Riders their first Final Four ever in their 75-69 upset of the Zags. It was a harsh penalty but it's there to prevent intentional delay tactics which this wasn't. Texas Tech hit their last six free throws and the best defense held off the best offense as the Zags shot just 42.4% and had 16 turnovers.
The second half of the #1S-Virginia-#3S-Purdue game had everything a fan would want with clutch shots, clutch rebounds, a buzzer beater, and a mano y mano matchup between the Cavs' Kyle Guy and the Boilermakers' Carsen Edwards. Guy hit 3 threes to start the second half in helping build a 45-37 lead but then Edwards caught fire hitting 6 of 8 three pointers and 24 points in a 32-22 run to put Purdue up by 2 with 1:11 left (Guy had 10 of those 22 points). But Purdue's Ryan Cline missed a free throw leaving the game at 70-67 and Purdue smartly fouled before Guy or anyone else could take a three with 5 seconds left. The second free throw was missed and a long rebound was won by Virginia in the back court and a great pass up to Mamadi Diakite in the arc was put in at the buzzer sending the game into overtime tied at 70. The overtime was tight as Guy was held to just two late free throws and Edwards had just a jumper (finished with 42 points and 10 threes) and then missed a three with 7 seconds left down 76-75. The Cavs hit their final four throws to win 80-75. So surprised that the clutch three specialist from the last game, Ryan Cline, didn't get a chance to shoot a three late in overtime. Just six of 58 games have been one possession games (9 if you just include regulation) and 37 of 58 have been double-digit blowouts.
Eleven went 2-0 today including Carseroni (131 pts) who roared to the top and leads by 4 points. The 131 is the most at this point since 2015 when Will I Win This also had 131. ChuckPersonCellBlock is 2nd (127) and FortressHoops1 is 3rd (123). The Gambler and FortressHoops3 went 2-0 to move into a tie for 4th with Honey Badger (122). Eric F (FortressHoops1 and FortressHoops3), Scott D (HoneyBadger and HoneyBadger 2 (12th-T, 132), Carl S (The Gambler and The Gambler 2 (7th-T, 120)), and Nicholas S (Nwspring 1 (9th-T, 119) and Nwspring 2 (12th-T)) each have two entries in the top 13. 57 went 0-2 with Maitai losing Purdue and will forever be at 49 points. 21 lost Gonzaga as their champion and Super Hedgehogs (87th-T, 104) lost Purdue. 19 picked Texas Tech and 97 picked Virginia (6 lost Purdue).
Carseroni has the best chance to win the pool (31.3%) and he and ChuckPersonCellBlock have the best chance at money (78.1%). Just 7 can win the pool and 30 entries are still alive. Kds911 (7th-T) and The Gambler 2 each have a 25.0% chance for 1st and a 56.3% chance for money. With the ACC getting their 13th win that means the Big Ten can't get more than 15. 49 can still win the Bonus and 89 have been eliminated from the Bonus and the Top 6.
FortressHoops1 is 3rd but can't win the pool (forever behind Carseroni) while Sisyphus66 is tied for 57th (108) and can still win the pool (Michigan St over Virginia in final). My Gekijou no Walkure is tied for 9th but can't finish in the top 6 ( :-( ) while Wesson Oil is tied for 93rd (102) and can still finish 4th (Texas Tech wins the final).
Tids & Bits - the entries averaged 0.72 wins today... 6 still have an intact Final Four while two are o-for-the-Final-Four... what's with all the bad line calls that CAN'T be reviewed? The Zags got robbed on a block/save by Texas Tech late but the foot was clearly a whole sneaker past the line but not called; yesterday saw Kentucky get robbed twice on calls that can't be reviewed... I do like that if the ref is confident they don't go to the replay, unnecessarily delaying the game 2-3 minutes... Purdue, who was outrebounded 39-31 and on offensive rebounds 17-8, got a huge offensive rebound with 21 seconds left but Cline missed the 2nd of 2 free throws that would've put them up by four and then Virginia got that huge offensive rebound off the free throw miss (don't know if that was intentional or not but clever if it was) that led to the buzzer beater -- just a great back-and-forth match in the 2nd half... Edwards' 139 points through 4 games was the most since 2000...
--------
Blood tests for three of us today, and Ava took it like a champ... me, however...
Scott
---
© 1995-2019 HWCI Productions
HWCI circa 1990